Review of Your Book Starts Here by Mary Carroll Moore
Your Book Starts Here: Create, Craft, and Sell Your First Novel, Memoir, or Nonfiction Book
by
Reviewed by Lisa J. Jackson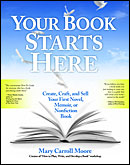 (This review was first published in the Fall 2012 issue of NH Writer, the newsletter of the New Hampshire Writers' Project.)
In Your Book Starts Here: Create, Craft, and Sell Your First Novel, Memoir, or Nonfiction Book, Mary Carroll Moore shares her years of experience teaching her "How to Plan, Write, and Develop a Book" workshop. But this is not simply a workbook of exercises. It is so complete, detailed, and instructive that I see it as a classroom in a book.
The twenty-five chapters are divided over three sections—planning, writing, and developing—and are meant to be read in whatever order applies to your current project. Dedicate some reading time, because once you start the book, it's hard to put down. There are numerous exercises to try, questions to ponder, and tools you can adapt to your own work.
Moore's conversational style keeps the reader involved, much like a teacher engaging students in a classroom. She poses questions and expects the reader to work out the answers. For example, she asks, "What kind of writer are you, most naturally? A concept, event, or image writer?" She also gives numerous examples from past students, touching on novels, memoirs, and nonfiction writing. I felt immersed in a conversation with other writers eager to discover new tips, tricks, and ways to make the story come alive on the page.
One tip I found riveting was how to change your Inner Critic into an ally. Many writers deal with damaging self-talk, but Moore has suggestions on how to turn the unhelpful voice into, at a minimum, a silent presence. One method that she used for her memoir, when a particular memory refused to get on the page, was to write a letter to her Inner Critic. In her writer's notebook (which she recommends all writers have), she thanked the Inner Critic for keeping her safe over the years and described how she appreciated its role. "Then," she says, "I asked it kindly to step aside, to let me write this chapter. I explained why I needed to write it . . ."
When she finished the letter, she closed her notebook and went back to her desk. The Inner Critic was silent, and the chapter flowed onto the page with ease. The inner voice is usually our subconscious. Meeting the voice head on—to get to the issue and acknowledge it—can help us move forward.
Moore's book is full of sharing. She not only speaks from experience but details those experiences in a way that builds a bond between herself and her reader. For instance, she talks about the idea of writing for one person, since most writers tend to "begin writing for themselves only." At first she didn't believe in this advice, which she learned from reading Kurt Vonnegut's work, but after publishing several books, she saw how it improved her own writing. And I believe her, since I felt she was talking to me, one person, as I read.
It's worth repeating: Your Book Starts Here is a writing class in a book. Having a copy to refer to and mark up can help you continually improve your craft. The appendix alone can keep your muse entertained and curious for months, because it includes Moore's favorite books about acquiring writing skills, getting ideas, healing via writing, editing and revising, publishing, engaging the creative process, and more. This is not a book you read once and put on a shelf. It's a reference that offers insight, exercises, and real-world examples for all stages of your book writing project.